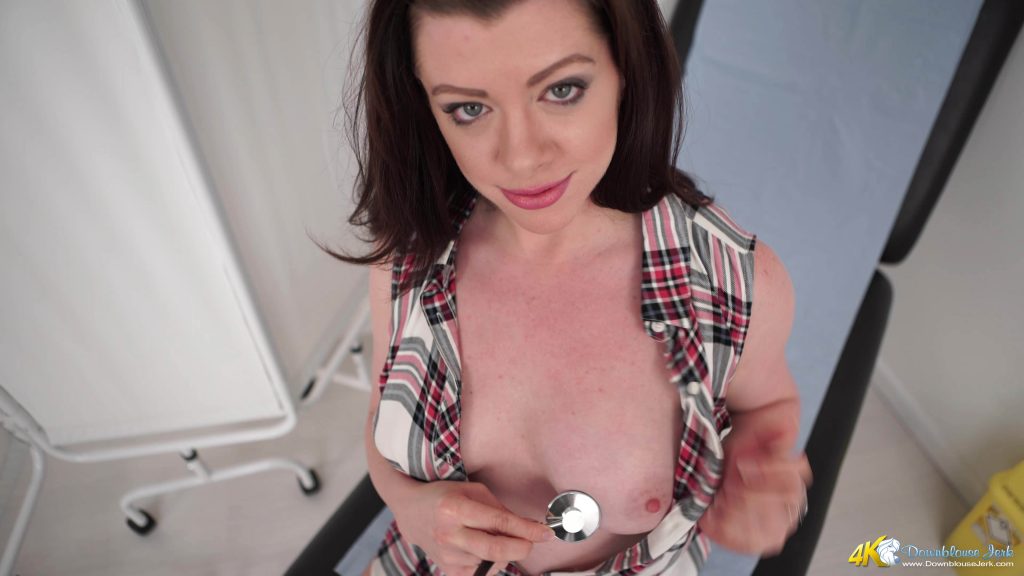 This is the third time you've seen Rihanna this month for a poorly chest. She's a gorgeous woman with a natural beauty to her and large natural breasts. Yes, even though you're a Doctor you can't help but notice her large breasts and you also notice that each time she comes she doesn't wear a bra. She's complaining that her chest feels a little tight but you can't see anything wrong with her and you're starting to think that she has a crush on you but you don't really believe it since you're twice her age.
Video from: Downblouse Jerk
She asks if you can have a listen to her chest and just as she does she leans over and grabs the stethoscope. She puts it right onto her hard nipple. You can't beleive what's happening, you know it's wrong but you go with it. She cups her breast and takes it out from be hind her shirt placing the stethoscope all over it. You can see how hard her nipple is but you still don't say anything. You do know that she makes for perfect wank encouragement. You can feel your cock twitching, becoming hard but wonder just how far you should let this go. She obviously wants some fun but what do you do?
She tells you it's OK, she wont tell anybody. So you get your cock out behind the desk and start  to rub it gently. Both of Rihanna's large breasts are out now and you see her right hand disappear behind the desk and in to her knickers. She's had a long held fantasy of having a girlie wank in front of the Doctor and now she's really doing it. She's never been so wet and horny. You know that she's touching her pussy, fingering herself and you start to wank your cock. It only takes a couple of strokes and you've cum all over yourself. As soon as Rihanna sees you cum she starts to orgasm. Biting her bottom lip and squeezing her breasts she put more pressure on her meaty shaved pussy and let's out one big moan and cums right before your eyes.
Gallery from: Downblouse Jerk