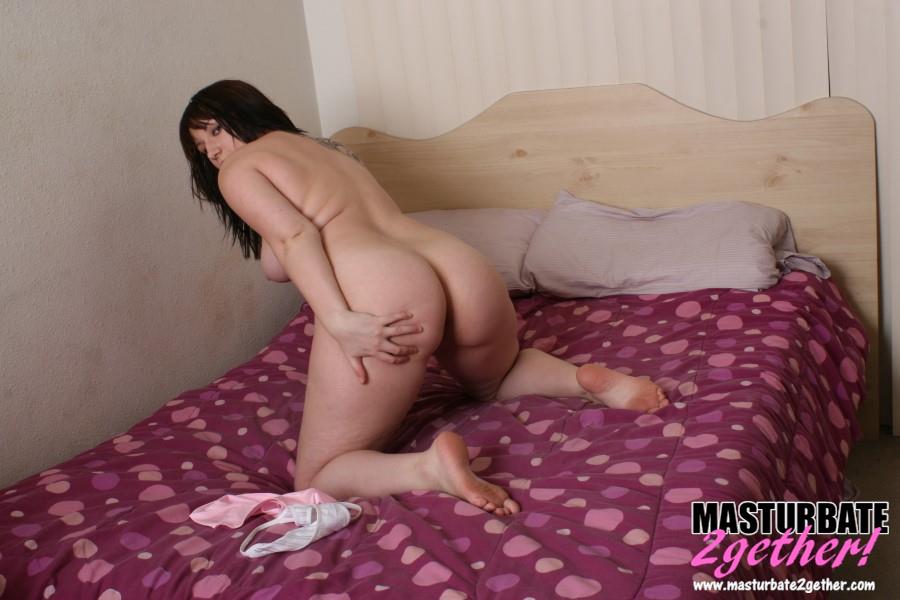 Did you know that some girls get extremely horny knowing that strangers are watching her undress? Well, lucky for you, this beautiful amateur girl is one of them! Meet Ashley, a beautiful brunette girl, with sexy natural curves, and a pretty face that loves it when guys are tugging, jerking and yanking it because she turns them on so much. She is a hottie with a great ass and perky pink nipples. She was not planning to create a fun gallery today, but after spending the whole day at work, she just needed some stress relief.
But, masturbating alone can be incredibly lonely and boring that's why we have sites such as Masturbate2gether.com. She needs a bit more amusement to actually enjoy herself to the fullest. Lucky for you, Ashley had a cameraman right in her pocket. She decided to let us film her as she took off her clothes and played with herself passionately. Sitting on the bed, she gave us a glaring seductive smile and removed her skirt. And, of course she asked the camera man to take out his cock for her. She wanted to see his hard cock poking from his zipper as she removed her panties and had a little fun.
Ashley is wearing sexy matching lingerie. She will take off her top fast, as well. You will get to see her pretty body in lingerie, but it won't take her long before she takes that off as well. She has a pair of tiny tits, an amazing ass, and a hairy pussy. Watch her passionately take off her clothes while giving us cute stares and touching herself all over. Ashley knows just how attractive she is, and she gets off on having an audience. The more people watch her, the happier she is. As she gets completely nude, she will bend over on the bed, spreading her legs wide open. Ashley wants us to watch her tight little ass while she twerks. If that's not enough, she will lay on her back, and spread her legs once again. Using her fingers, she will open her pussy wide, and play with herself in the process.
Turning back on all fours once again, watch her finger her tight pink pussy like there's no tomorrow. You can already imagine her cute moans while she fucks herself on the bed as she glances at us from time to time to make sure we are paying attention… But who could possibly ignore her? Ashley is just a gorgeous teen with curves in all the right places. She is beautiful, and sexy, and she knows how to get our attention. She is also rather adventurous and ready to try many sexy new things. There is no doubt that you will fall in love with her beauty, sexiness and naughty mind. Watch her undress, masturbate, and pose in the nude while enjoying herself to the fullest.