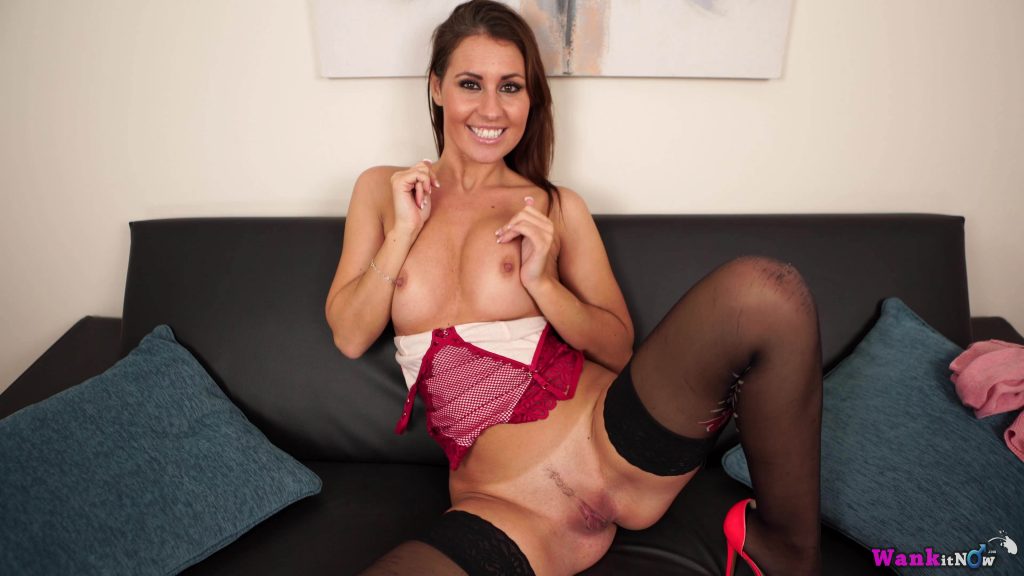 So you have a flat and have a spare room to let, you've interviewed a few people today and you really didn't feel comfortable with any of them and the last to arrive is Jess West - a gorgeous brunette, petite with a the sweetest ass and the prettiest blue eyes that ever looked at you - the perfect flat mate. Thing is, she's turned up wearing wearing a tiny skirt and black stockings and as it happens while you're sitting opposite her chatting you can see her black stocking tops, it's pretty obvious she's came to seduce you in to renting her the room. Here's where you see an opportunity. As you can see, she's desperate for the room so you ask her if she would feel comfortable with you walking around the flat naked? She says that she wouldn't mind, so you decide to put her to  the test and take your clothes off.
Video from: Wank It Now
She watches you get naked and as you take off your shorts she can see that your cock is already hard, flexing mid air. Jess is extremely turned on and decides to take off her clothes too. She's wearing sexy lingerie and she looks so fine. She encourages you to go ahead and start wanking - she is the perfect wank encouragement. She turns around and shows you her magnificent ass. It doesn't take you long - your prick was twitching before she even turned up. Standing their naked, wanking your cock like a dirty pervert you feel yourself starting to orgasm. You take a few steps towards her and you spray your heavy load all over Jess's sweet ass and and pussy.
Gallery from: Wank It Now