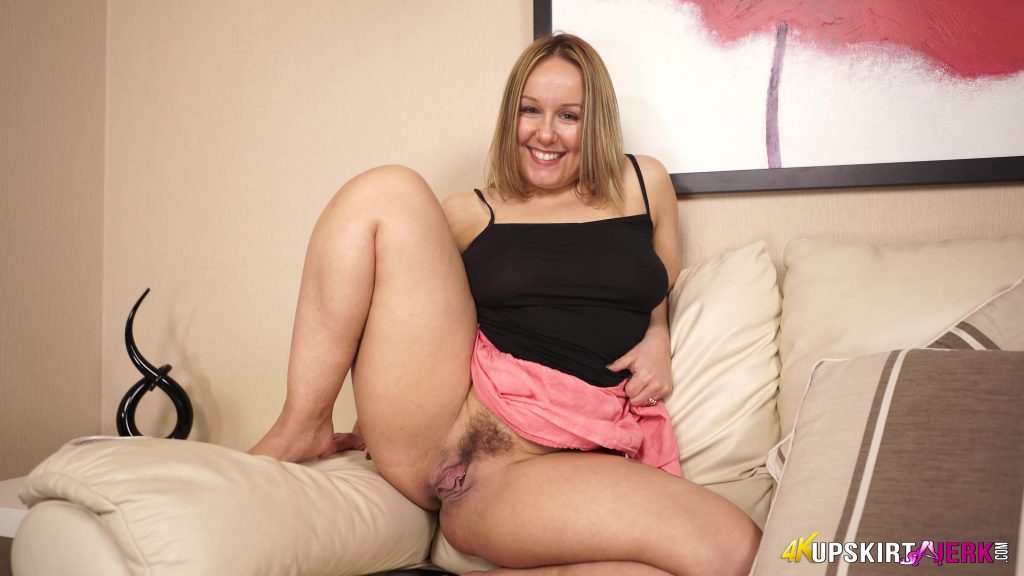 You can't believe your luck. You've split up with your girlfriend because you kept looking up girls skirts so you couldn't believe it when your ex girlfriends fat sister Ashley Rider turns up to "see if you're OK" wearing a really short pink skirt.
As she's talking to you about her sister you can see right up her skirt at her panties. Of course she wants you to look up their and when she catches you she's more than happy to open up her thick legs and let you have a really good look up there. Ashley Rider's had the hots for you for ages  and now that she's got your attention she takes off her panties to show you her hairy pussy and asks you if hers is better than her sisters.
Video from: Upskirt Jerk
Ashley opens her legs wide showing her pussy and encourages you to wank your cock. She tells you that she loves been the slutty little sister and starts to rub on her hairy cunt. You take your cock out and start wanking it and tell her that her pussy is way better than her sisters and you can't believe what you've been missing out on all these years. Just then Ashley slides her two fingers in to her fat pussy and you feel your shaft tighten and cum starts to shoot from your cock much to the satisfaction of this naughty sister.
Photos from: Upskirt Jerk