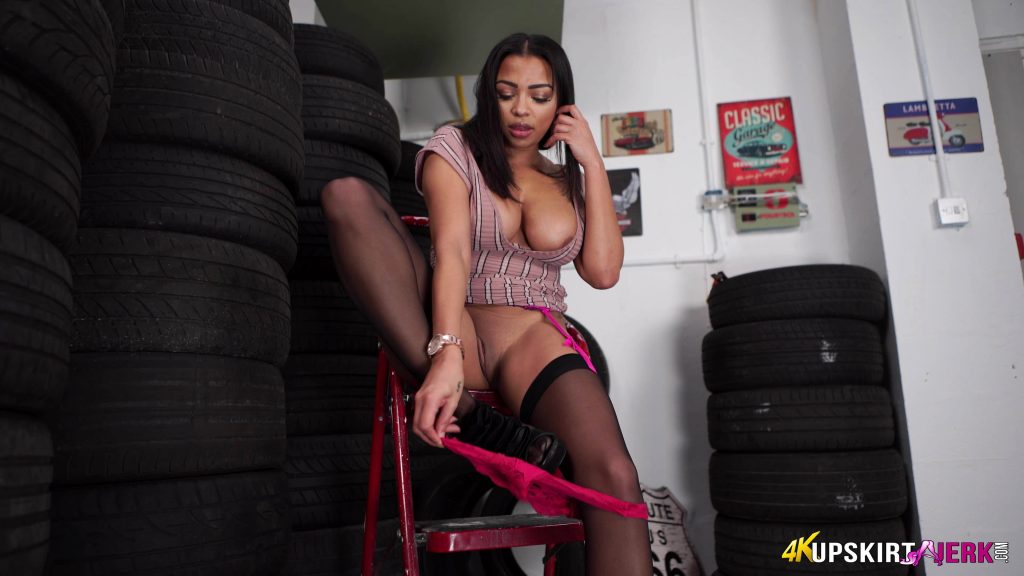 You're a mechanic and in comes a stunning, young black girl with the biggest tits you've ever seen in real life wearing the shortest dress you've ever seen in real life which is hugging her thick, curvy body. And guess what, it's her car you've been working on all day and she's come to see how you're getting on.
Ruby doesn't think she can afford to pay you for fixing her car, she's heard about your extortionate prices. However, when she originally brought the car in she did catch you trying to look up her skirt so today she's came back wearing something extra special in the hope of making you a deal. She'll let you look up her skirt while you jerk off if you give her a really big discount.
Video from: Upskirt Jerk
Sitting on the stool while you're still working under her car Ruby opens her legs slightly and lets you have a good look at her stocking tops and pink, laced knickers. Your cock is going fucking bezerk, you don't care t hat your hands are covered in grease and oil, you grab it anyway and start jerking off nice and slowly. Ruby then opens her legs wider and you get a really good look at her sweet pussy but it's when Ruby turns around and bends over the chair that gets you on the brink.
Just as Ruby turns around and bends over the chair she tugs her knickers down and lets you have a really god look at her pussy. Lush, wet and so pink. When she uses her middle finger and slips it over her hard pink clit that's the moment when you start spunking all over yourself. She looks so pleased with herself and her deal.
Gallery from: Upskirt Jerk